As a hotel revenue management leader, staying ahead of hospitality trends is vital to future-proofing your property. While current realities like staffing challenges and economic uncertainty dominate the industry narrative, we must keep one eye on the horizon. Already emerging are the trends set to disrupt hotels in 2024 and beyond.
From robotics to hyper-personalization, groundbreaking innovations offer opportunities to captivate guests in new ways while optimizing operations.
We will unpack ten hospitality trends ready to revolutionize our industry next year. Though change brings growing pains, those who embrace it with agility will reap the rewards.
Let's glimpse the technologies and experiences defining hospitality's future.
Table of Contents
Key Emerging Hospitality Trends
- Mainstreaming of robotics and Automation
- Immersive extended reality (XR) experiences
- Hybrid human + AI guest interactions
- Hyper-personalized loyalty programs
- predictive data analytics
- Mobile-first experiences
- Self-service automation
- Smart energy management systems
- Contactless technologies
- Purpose-driven hospitality
Mastering these rising trends today will ensure your hotel is future-ready. Let's explore how each one promises to reshape the guest journey and disrupt operations in 2024.
The Mainstreaming of Robotics and Automation
Once a novelty, robotics and Automation will become mainstream across hotel departments by 2024. From reception robots to automated kitchens, AI-powered service robots boost productivity without sacrificing hospitality's human touch.
Relieve staffing burdens by deploying bots to handle simple guest requests or deliver amenities. You can transform the dining through automated cooking suites preparing made-to-order meals. Behind the scenes, AI Optimizers will crunch data to improve operational efficiency across finance, inventory, and more.
While emerging technologies require investment, returns via enhanced service quality, lower costs, and future-proofing quickly offset expenses. Prepare for robots to become a standard presence, enhancing hotel productivity.
Immersive Extended Reality Experiences
Integrating immersive extended reality (XR) into the guest journey is another top trend for 2024. XR encompasses virtual reality (VR), augmented reality (AR), and mixed reality (MR) technologies creating digitally enhanced experiences.
From personalized VR welcome videos to augmented city tours, XR facilitates next-level guest engagement. Imagine providing visiting kids with an MR treasure hunt adventure or transporting couples to a virtual beach at sunset.
The creative possibilities for XR to transform stays into multidimensional experiences are endless. Those leveraging its power will gain a distinct competitive edge.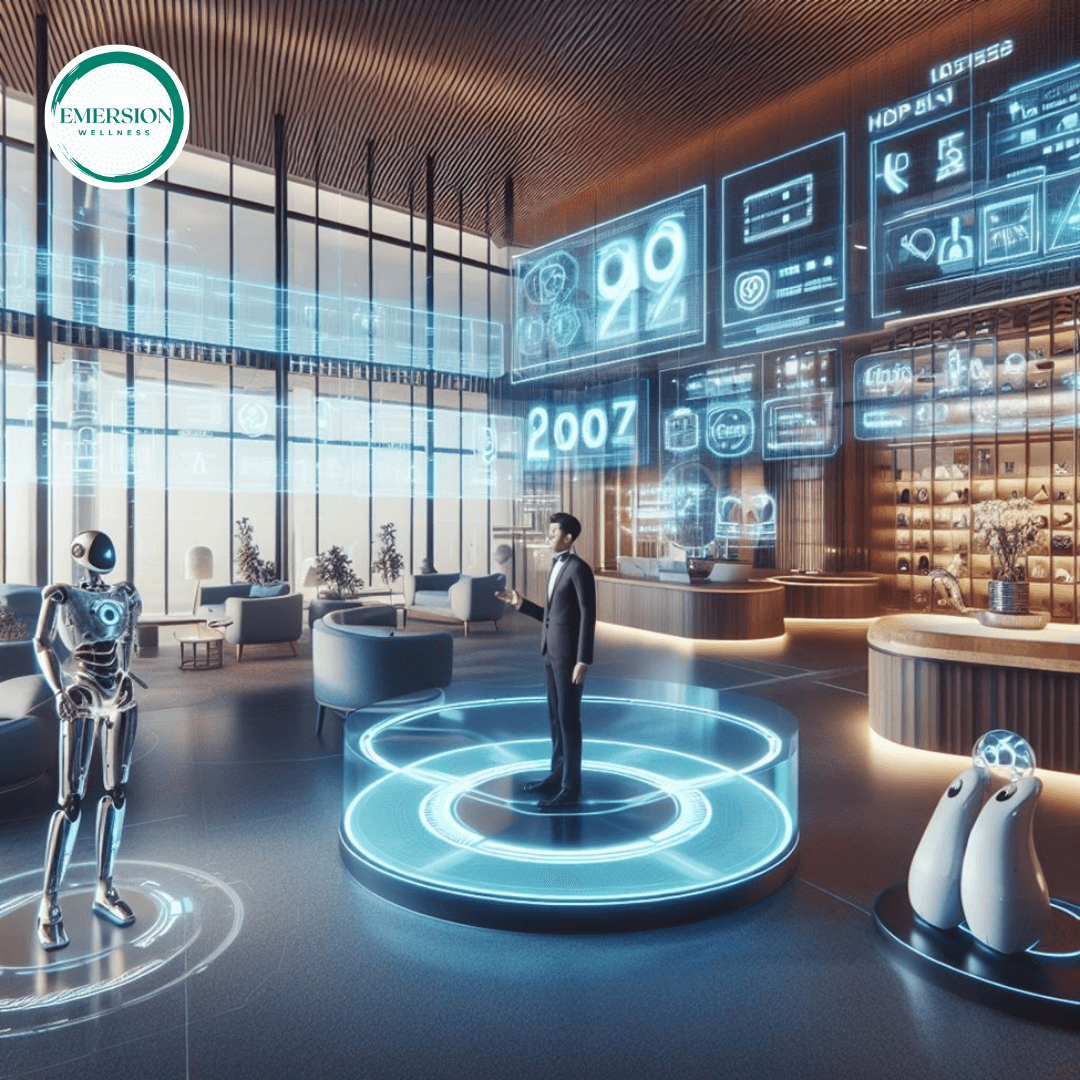 Hybrid Human + AI Guest Interactions
While AI and bots handle transactional service interactions, genuine human connections remain at hospitality's core. Savvy hotels will adopt hybrid models, optimally blending physical and digital engagement.
Reception robots and chatbots can usher contactless arrivals before warm handovers to staff for relationship-building. Virtual concierges answer common questions around the clock while onsite teams provide VIP treatment.
With the right balance, hybrid human + AI models enhance service quality at scale. Seamlessly converge virtual and face-to-face interactions to impart high-touch hospitality.
Hyper-Personalized Loyalty Programs
Today's guests expect personalized loyalty programs to respond to their unique preferences before, during, and after each stay. AI-powered platforms will allow hotels to deliver on these expectations in 2024.
By gathering customer insights across channels and touchpoints, hotels can craft tailored promotions, amenities packages, room upgrades, and experiences for loyalty members. Dynamic programs incentivize repeat visits and higher spending.
Interaction history, sentiment analysis, purchase patterns, occasion data, and stated inclinations all inform hyper-personalization. Savvy loyalty programs demonstrate genuine guest understanding.
Predictive Data Analytics of New Hospitality Trends
Harnessing big data through AI will become indispensable for optimizing hotel operations and experiences in 2024. Predictive analytics comb through data from CRM platforms, online reviews, social media, and more to identify issues, detect needs, forecast trends, target marketing, set pricing and staffing models, and make strategic decisions.
The insights unlocked provide a potent competitive edge. Integrate predictive analytics models across departments to maximize occupancy, guest satisfaction, ancillary revenues, and profitability. Data-driven hotels outperform.
Mobile-First Experiences
The guests expect a seamless experience across devices, with mobile emerging as the engagement hub. Support our increasingly connected world by taking a mobile-first approach.
Build user-friendly apps enabling guests to self-serve via mobile for booking, concierge recommendations, contactless check-in/out, room controls, requests, and payments. Optimize websites for mobile use. Integrate messaging for communications. Mobile powers convenient, personalized, and frictionless experiences.
Self-Service Automation
Speaking of frictionless experiences, guest-facing Automation will hit new heights in 2024. Self-service kiosks in lobbies enable speedy, contactless check-in/out. In-room smart devices allow voice-activated controls for lighting, temperature, TV, drapes, etc.
Chatbot and other similar interfaces quickly complete services anywhere and at any time. Keyless entry systems powered by mobile apps minimize contact at touchpoints. Automating mundane transactions frees staff capacity for high-value guest interactions.
Smart Energy Management Systems
Sustainability is now a competitive advantage hotels must flaunt. Introducing AI-powered energy management systems is a crucial 2024 trend. By monitoring all energy usage continuously, innovative approaches identify savings opportunities. Detect high-consumption devices, optimize heating and cooling, receive equipment failure alerts, analyze inefficient energy patterns, and more. This enhances conservation while reducing utility costs substantially. Broadcast your commitment to sustainability through smart systems.
Contactless Technologies
Contactless technologies will continue proliferating across guest touchpoints in 2024. Pandemic-driven demand for minimal touch interactions is now an expectation hotels must meet.
Contactless payments, doors, check-in/out, dining experiences, requests, and promotions enable safe and convenient hospitality. Integrate technologies like QR codes, mobile apps, voice controls, facial recognition, biometrics, IoT sensors, and gesture controls to provide seamless contact-free experiences.
Purpose-Driven Hospitality Trends
Finally, 2024 will bring a new hospitality paradigm where purpose equals profits. Consumers increasingly support brands advancing social causes and environmentalism.
Communicate your values. Have charity components in packages—sponsor community initiatives. Prioritize diversity, equity, and inclusion in your workplace. Share sustainability efforts. With "we not me" thinking, purpose-driven positioning attracts conscientious guests.
Conclusion: Partner With Emersion Wellness to Lead Innovation
Lead the charge rather than being disrupted by the trends shaping hospitality's future. As your innovation partner, Emersion Wellness stays ahead of emerging technologies to ensure your property leverages them for competitive advantage. Let our experts help you build a trend-forward hotel positioned for long-term profitability.
By embracing innovations strategically, you can captivate guests in new ways while streamlining operations. Contact us today to schedule a consultation and tour of our Innovation Lab. Claim your place at hospitality's cutting edge.
Frequently Asked Questions
How are hotels using robotics and Automation?
Hotels are deploying robots for simple guest interactions like delivering amenities and handling basic requests. Automated kitchen equipment is improving the efficiency of dining operations. AI optimization systems are enhancing finance, inventory, and overall operational efficiency. Automating mundane tasks allows staff to focus on high-touch hospitality.
What is extended reality (XR), and how are hotels utilizing it?
Extended reality (XR) includes virtual, augmented, and mixed reality technologies that create digitally enhanced immersive environments. Hotels use XR to provide personalized branded experiences through VR welcome videos, AR scavenger hunts, mixed reality simulations of dream destinations in guest rooms, and more.
Why are hybrid human + AI models ideal for hotels?
Blending physical, virtual, and robotic interactions optimizes efficiency while retaining hospitality's human touch. AI chatbots handle simple guest requests 24/7 while staff build relationships through high-value service. This hybrid model provides scalability to serve more guests while enabling personalization.
How does AI enable hyper-personalized hotel loyalty programs?
AI systems aggregate data on guest preferences, past stays, purchase patterns, feedback, special occasions, and more to create tailored loyalty program promotions, amenities packages, room upgrades, and experience offerings for each member. Dynamic programs feel more personal versus one-size-fits-all rewards.
How are predictive analytics transforming hospitality Trends?
Predictive analytics systems use AI to comb through data from sources like CRM platforms, online reviews, social media, and more to identify issues, detect needs, accurately forecast trends, target marketing, set optimal pricing and staffing models, and generate data-driven insights to inform big decisions. This drives significant optimization and a competitive edge.
Why should hotels prioritize mobile experiences?
With mobile becoming the primary engagement hub for travelers, guests expect conveniences like easy booking, recommendations, frictionless check-in/out, requests, in-room controls, messaging, and seamless experiences across devices via hotel apps and mobile-optimized websites. Prioritizing mobile meets these expectations.
What self-service automation technologies are trending?
Contactless kiosks, smart voice controls, mobile apps, AI chatbots, keyless entry systems leveraging mobile access, QR code menus/information, and more self-service technologies are automating mundane guest transactions. This allows staff to focus on providing high-value, personal service.
How are smart energy management systems transforming hotels?
AI-powered energy management systems use IoT sensors to monitor all energy usage continuously. This allows hotels to detect savings opportunities like replacing high-consumption equipment or inefficient heating/cooling schedules to optimize. Smart systems significantly improve sustainability efforts while reducing utility costs.
Why are contactless technologies now essential?
Contactless technologies like mobile entry, voice controls, QR codes, facial recognition, biometrics, IoT sensors, gesture controls, and more allow hotels to provide the touch-free experiences guests now expect for safety, convenience, and comfort after the pandemic accelerated demand.
How does purpose-driven positioning impact hospitality success?
Today's consumers favor brands advancing social causes and sustainability. By embracing "we not me" thinking through community initiatives, corporate social responsibility, environmentalism, diversity programs, and more, hotels see rising demand from conscientious guests seeking to align with purpose-driven brands.
Contact Us for more Details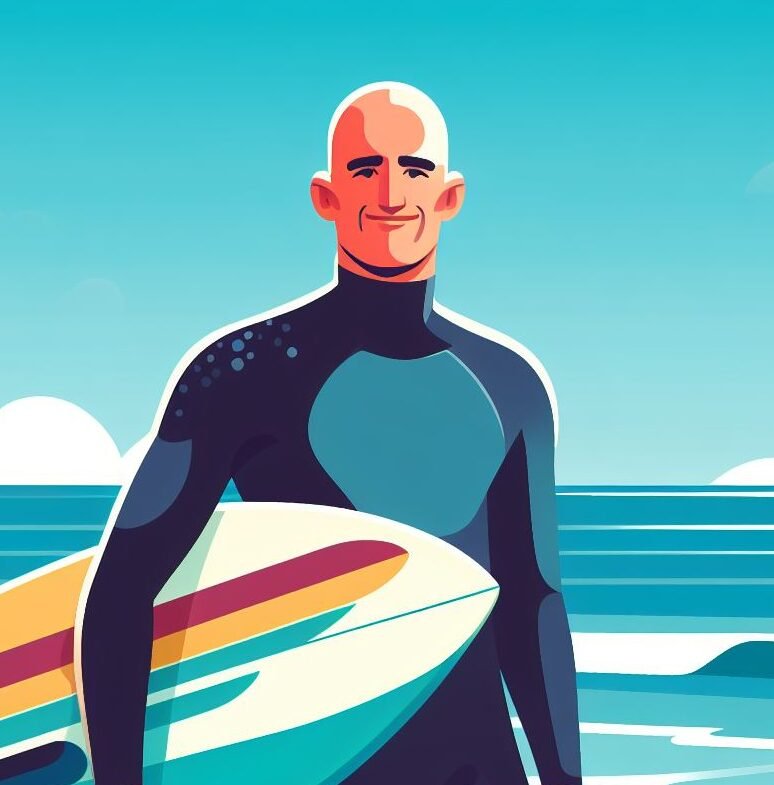 I'm Nathan Baws, a nutrition nerd, exercise and weight loss expert, and an unwavering advocate for good health. As the founder of Emersion Wellness, I'm passionate about crafting Seamless Weight Loss Programs to supercharge hotel revenue and transform lives. We've pioneered the World's First Plug & Play Weight Loss Programs for top hotels and resorts, sparking a wellness revolution. Beyond my professional journey, you'll often find me hiking, swimming, and riding the waves, embracing every moment in nature. Join me on this exhilarating journey towards diet, health and wellness.